As promised, here's my tutorial for animating a camera with a path and track-to constraint.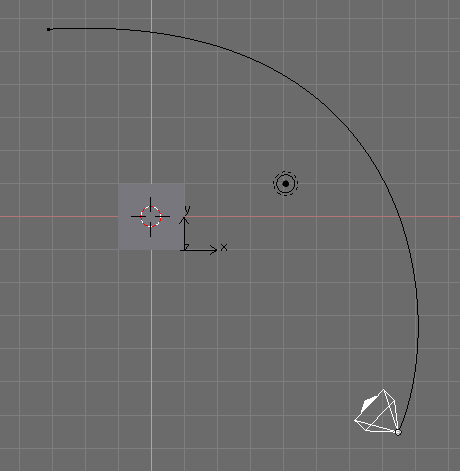 A fairly simple scene. I think it's the default scene (I've tweaked my defaults) with the addition of a path for the camera to follow and an empty for the camera to point at.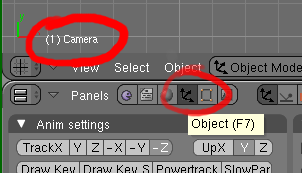 Go into the object buttons for the camera. You should find the constraints panel off to the right if you're using the default layout. In there, add the "Follow Path" constraint.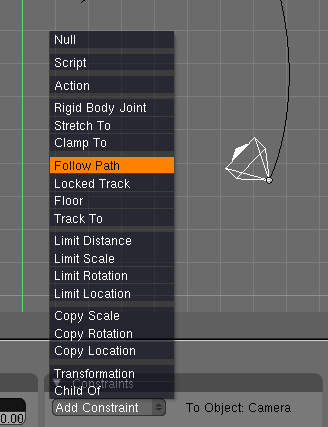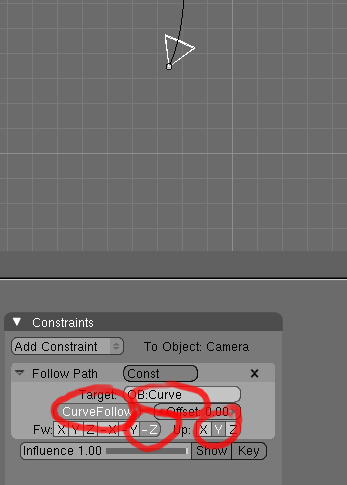 Set the constraint parameters as above (using the appropriate name for the path object): "OB", "CurveFollow", "Fw" and "Up". These settings make the camera point along the path (useful for simple flybys).
After making the above settings, you will probably find your camera to be slightly insane. Just clear it's rotation (alt-r), location (alt-g) and origin (alt-o). The camera will then be sitting on the path pointing along it.
Now for a bit more fun... making the camera look around: this is where the empty comes in.
First, add the "Track To" constraint (I've minimized my "Follow Path" constraint)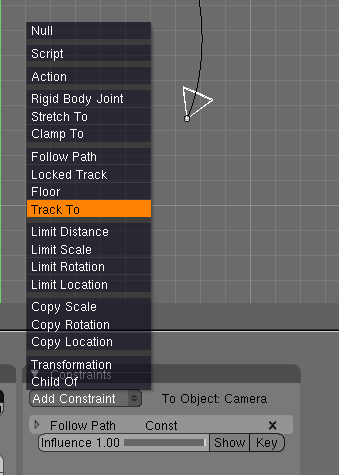 And then set the constraint's parameters as shown below (again, appropriate name for the empty): "OB", "Align", "To" and "Up".
The beauty of this setup, is you can control the orientation of the camera by moving and rotating the empty. If you don't want the camera's orientation to be affected by the empty's, turn off "Align".
Here
is the blend file.
Because the camera was first setup to follow the path, you can now animate whether the camera points along the path or at the empty by playing with the camera's track-to constraint influence, which can be put on an ipo via the key button to the right of the influence bar. I've demonstrated this in the blend file. I also have the empty rotating to demonstrate its control over the camera's orientation.
Going further: it doesn't have to be a camera following the path. The object pointing at the empty can be a child of the object following the path. The target doesn't have to be an empty. Battle cruiser passing by a space station, turrets trained on the station
. (this is probably where you'd want to turn of "Align", or not turn it on in the first place)
I hope that helps. If anything's not clear enough, or there are any other questions, please let me know.